This is an exciting year as this month we have the Rugby World Cup hosted in Japan. At the start of this tournament it will be the first time in a decade that New Zealand enters the Rugby World Cup not in the number the one position of the Word Rankings. I thought I would do another Top 10 Rugby list, this time it is the players with the most tries scored in the history of the Rugby World Cup. A previous list that may interest you is Top 10 Rugby Players of All Time
#10 Brian Lima – Samoa – 10
Brian Lima was the first player to appear in five Rugby World Cups, his fifth being in 2007. He earned the nickname of "The Chiropractor" for his shuddering hits both on and off the pitch that supposedly rearranged the bones of the victim. After his retirement he went on to become the defense coach for the Samoa National Team but resigned in 2014 after domestic violence allegations against his wife.
#9 Vincent Clerc – France – 11
Vincent Clerc played wing for the French National team. He played in the 2007 & 2011 Rugby World Cups where he scored a combined score of 10 tries.
#8 Rory Underwood – England – 11
Not only does Rory Underwood hold the record for the most tries scored in Rugby World Cup by an English player but also he is England's record international try scorer with 49 tries in 85 internationals between 1984 – 1996. He played in the 1987, 1991 & 1996 World Cups.
#7 Josevata Rokocoko – New Zealand – 11
Joe Rokocoko has had a long career with the New Zealand All Blacks. He is known for his speed and strength. He announced this week that he was retiring from rugby. Rokocoko is tied at second as the highest scorer for New Zealand rugby. He played 68 test and scored 46 tries for New Zealand.
#6 Chris Latham – Australia – 11
Chris Latham is a former Australian rugby player, he is now head coach of West Samoa. He stands as the second highest try scorer in Australian history having scored 40 international tries. Some place him as the finest full back ever.
#5 Adam Ashley-Cooper – Australia – 11
Adam Ashley-Cooper played all but four of the 56 Tests played by Australia between 2008-2011. He scored 5 tries in the 2011 Rugby World Cup and 6 in the 2015 Rugby World Cup. He may just move further up this list as he will be playing in the Rugby World Cup 2019.
#4 Doug Howlett – New Zealand – 13
Doug Howlett is retired from professional rugby. He played for the New Zealand National team, he scored 49 tries in 62 Tests. Howlett is currently the seventh highest try scorer in Rugby Union history and first in highest try scorer for New Zealand.
#3 Drew Mitchell – Australia – 14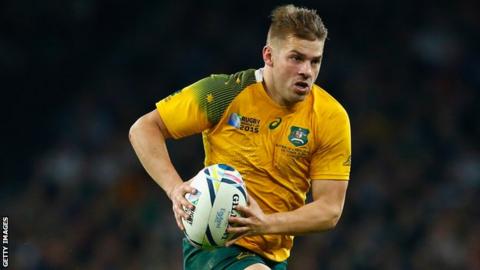 Drew Mitchell is a former Australian union player, starting his career with Australia in 2005. In 2005 he was named Australia's Rookie of the Year. Mitchell left Australia in 2013 to go play for a French Team.
#2 Jonah Lomu – New Zealand – 15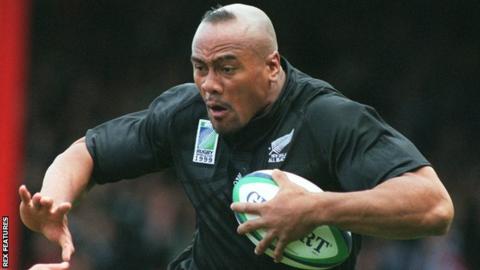 Jonah Lomu was a New Zealand rugby union player, he was the youngest ever All Black when in played his first international in 1994. He is regarded as the first true global superstar of rugby and consequently had a huge impact on the game. Lomu was inducted into the International Rugby Hall of Fame on 9 October 2007,and the IRB Hall of Fame on 24 October 2011. Lomu played in the 1995 and 1999 Rugby World Cups. Lomu was diagnosed with nephrotic syndrome, a serious kidney disorder in 1995, he died unexpectedly on 18 November 2015 after suffering a heart attack associated with his kidney condition.
#1 Bryan Habana – South Africa – 15
Bryan Habana played wing for the South African national team. He was part of the 2007 Rugby World Cup team when South Africa won, Habana scored eight tries. He was subsequently named the 2007 IRB Player of the Year. During the 2015 Rugby World Cup he equalled Lomu's career record of 15 tries in World Cups. He is in second place among all time test try scorers, with a total of 67 tries behind only Daisuke Ohata. On 24 April 2018, Habana announced his retirement from all rugby.