There have been a lot of hurricanes to make landfall in the USA over the years, some worse than others and now we have Hurricane Dorian due to make landfall this labor day weekend. It is a little difficult to put these in order as there are a lot of factors with each hurricane. The ones that hit in the early 1900's have a very large death toll as in those days it was very difficult to get the word out and get people prepared and to evacuate. In recent years with all of social media available people tend to be more prepared and evacuation orders are put in place.
#10 Hurricane Michael 2018
Hurricane Michael made landfall on Oct. 10th 2018 as an unprecedented Category 5 Hurricane in the Florida Panhandle region with maximum sustained wind speeds of 161 mph and a minimum pressure 919 mb. The storm caused catastrophic damage from wind and storm surge. The widespread damage spread well inland as Hurricane Michael remained at hurricane strength into southwest Georgia.
Wind speed of 160mph
central pressure of 919mb
damage of $25.1 billion
16 people died
40,000 homes damaged or destroyed
#9 Labor Day Hurricane 1935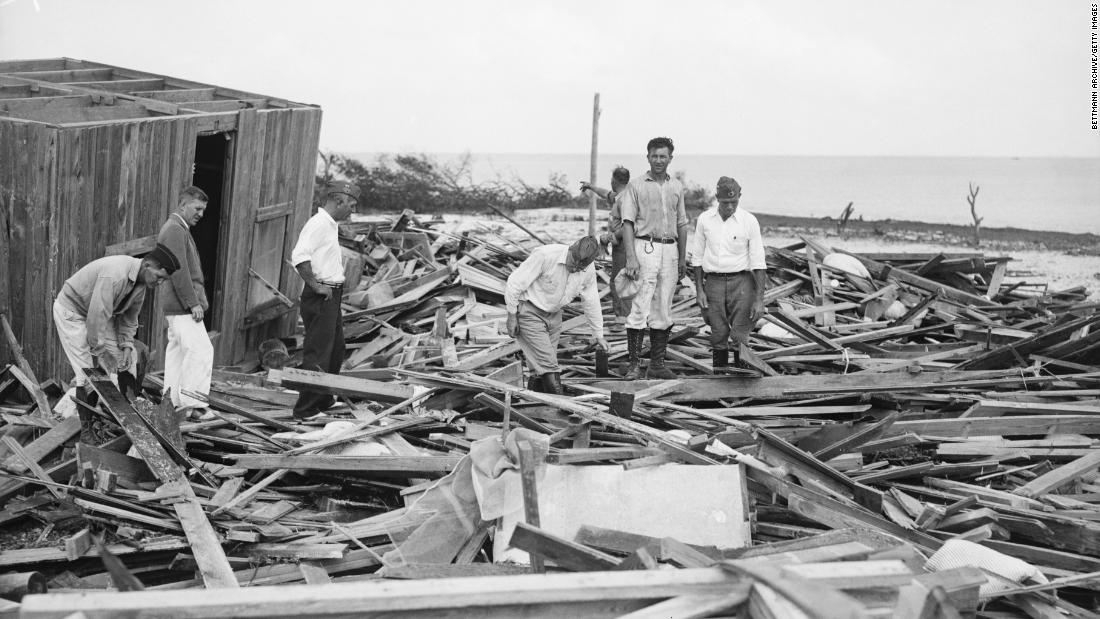 On September 2, 1935, Labor Day, the hurricane reached a peak intensity of 892 mb. The hurricane made landfall later that night as a Category 5 storm, crossing the Florida Keys between Key West and Miami, FL. A swath of destruction 64 km (40 mi) wide occurred across the Keys. Fatalities throughout the Keys were significant it is said the death toll from this storm could have been reduced if it wasn't for forecasting errors produced at the Weather Bureau.
Maximum sustained winds of 185mph
409 fatalities
15 – 20 foot storm surge
#8 Hurricane Sandy 2012
Toward the end of October 2012, Hurricane Sandy plowed through the Caribbean — killing 75 people before heading north. As it approached the East Coast, it produced the highest waves ever recorded in the western Atlantic, causing devastating storm surge and floods throughout coastal New York and New Jersey.
147 people died
$70.2 billion worth of damage
8.5 million people lost power
650,000 houses destroyed
central pressure was 940mb
32.5′ high wave was measured in New York surf
#7 Hurricane Harvey 2017
Hurricane Harvey made landfall in south-central Texas on Aug. 25 2017. It was a category 4 hurricane with wind speeds of 130mph. Hurricane brought so much rain and this could extensive flooding making this the wettest hurricane ever recorded.
13 million people were effected by hurricane Harvey
135,000 homes destroyed or damaged
88 people died
27 trillion gallons of rain fell over Texas
One-third of the city of Houston was flooded.
#6 Hurricane Camille 1969
August 16 1969, hurricane Camille looked ready to slam into New Orleans when it changed direction and made landfall off the coasts of Eastern Louisiana and Mississippi. Estimate wind speeds of when it first made landfall are of 201mph. Hurricane Camille generated extremely high storm surges.
15,000 people were left homeless
a storm surge of 26.6′ above MSL
262 lives were lost
total damages of $1.5 billion, mostly due to storm surge.
#5 Hurricane Katrina 2005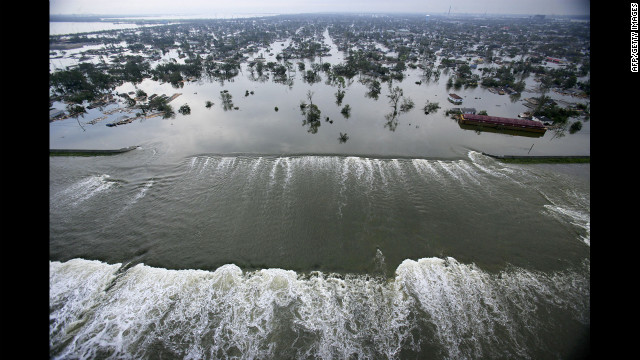 Katrina was a category 1 hurricane just two hours before making landfall at Hallandale Beach, Florida on Aug. 25. It weakened over Florida before emerging into the Gulf of Mexico on Aug. 26. Katrina began to rapidly intensify and strengthened to a Category 5 hurricane over the warm Gulf waters. This storm eventually made a second landfall as a Category 3 hurricane on Aug. 29 in southeast Louisiana. Katrina's most catastrophic impacts were from storm surge rather than wind because of its sheer size. The large field of strong onshore winds pushed record breaking storm surge into the Mississippi Gulf Coast. The surge penetrated 6 miles inland across most of South Mississippi, and up to 12 miles inland along bays and rivers.
$108 billion in damages, the costliest on record.
Central pressure dropped to 902 mb, which was the lowest pressure observed in an Atlantic basin hurricane since Gilbert in 1988.
Estimated 28-foot storm surge at its peak, the highest surge on record in the U.S.
1,577 people died, with 200 of these were killed from flooding in Mississippi, and 6,000 were injured.
Made landfall near Buras, Louisiana with a pressure of 920 mb, which remains the lowest pressure on record for a Category 3 landfall.
More than 10,000 gallons of oil was spilled into the Gulf of Mexico.​​​​​​
#4 Hurricane Andrew 1992
This hurricane pummeled the East coast of Florida as a category 5. When this hurricane made landfall the winds were 175mph and the town of Homestead was close to wiped out.
175 mph winds and low pressure of 922 mb.
$26.5 billion in damage.
Home damage: 63,000 destroyed and 124,000 damaged.
65 deaths
1.4 million people lost power at the height of the storm.
70,000 trees down in the Everglades, and 80 percent of the trees were lost in the Atchafalaya River Basin.
187 million fresh water fish were killed throughout the basin and Bayou Lafourche.
#3 Okeechobee Hurricane of 1928
On Sept. 13 1928 this hurricane slammed into Puerto Rico as a Category 5 hurricane with winds of 160 mph. Finally, after several days of battering the Bahamas, the Okeechobee hurricane made landfall around West Palm Beach, Florida on Sept. 17 as a Category 4 storm. Storm surge caused Lake Okeechobee to pour out the southern edge, flooding hundreds of square miles with as much as 20 feet of water.
4,079 deaths, second deadliest hurricane on record: 1,200 in Guadeloupe, 312 in Puerto Rico and 2,500 in U.S.
160 mph winds and low pressure of 929 mb.
100 million in damage, the equivalent of $1.4 billion in 2019.
Devastation in Puerto Rico: 24,728 homes destroyed, 192,444 damaged and 500,000 people homeless.
#2 Miami Hurricane of 1920
The Miami hurricane made landfall on Sept. 18th 1920 as a Category 4 with a wind speed of 150mph.  In the 1920's Miami was a fast-growing city with people coming from all over the country, this also meant a large portion of the population were unfamiliar with hurricanes.
Max winds recorded were 150 mph with a low pressure of 930 mb.
10-foot storm surge at the height of the storm.
$105 million in damage ($90 billion had it occurred in recent times).
Storm made a second landfall in Alabama and Mississippi.
372 people died and 6,000 were injured.
#1 Galveston Hurricane of 1900
The Galveston hurricane made landfall on Sept. 8th 1900 as a Cat. 4 hurricane with winds of 145mph. The Galveston hurricane caused massive destruction and record death toll.
Lowest pressure was 936 mb.
Galveston sits at 9 feet above sea level and the storm surge rose to 15 feet.
3,600 homes were destroyed.
8,000 people died, which was about 20 percent of Galveston's population and 30,000 injured.
$21 million in damage, the equivalent of $641 million in 2019.